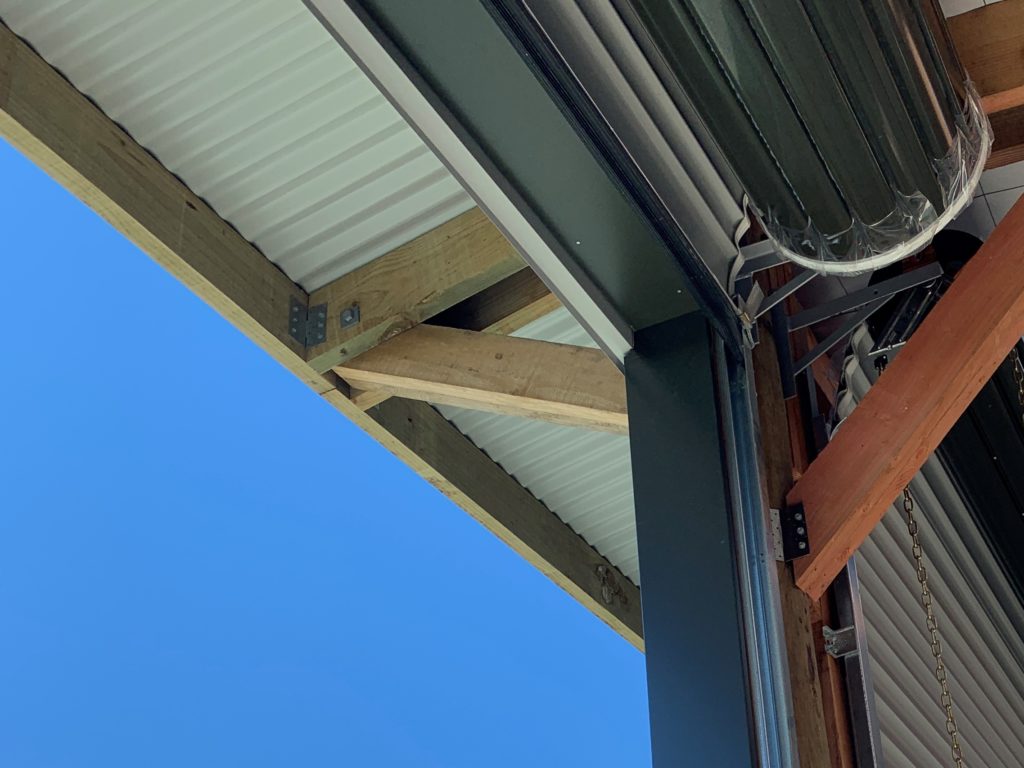 Manual or motorised roller doors for easy access, security and protection from the rain and wind.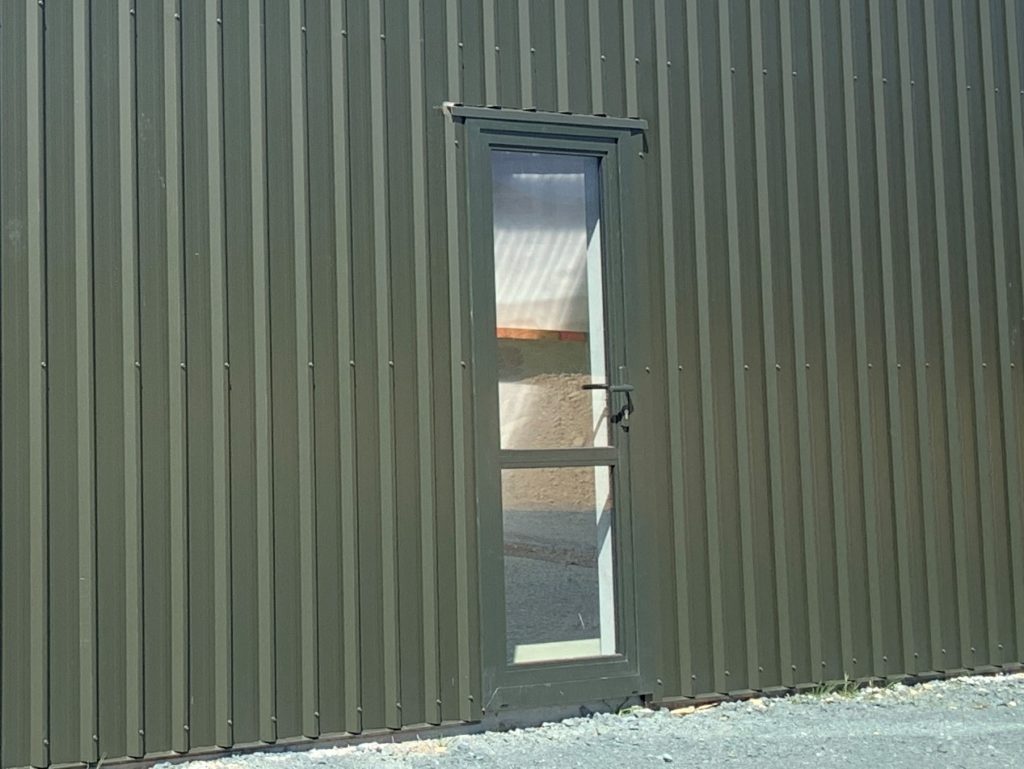 Personnel Access (PA) door
Pre-hung aluminium glazed door or steel door for added security.
Skylight roofing and wall sheets
Add natural lighting by adding translucent sheets to the roof and/or walls.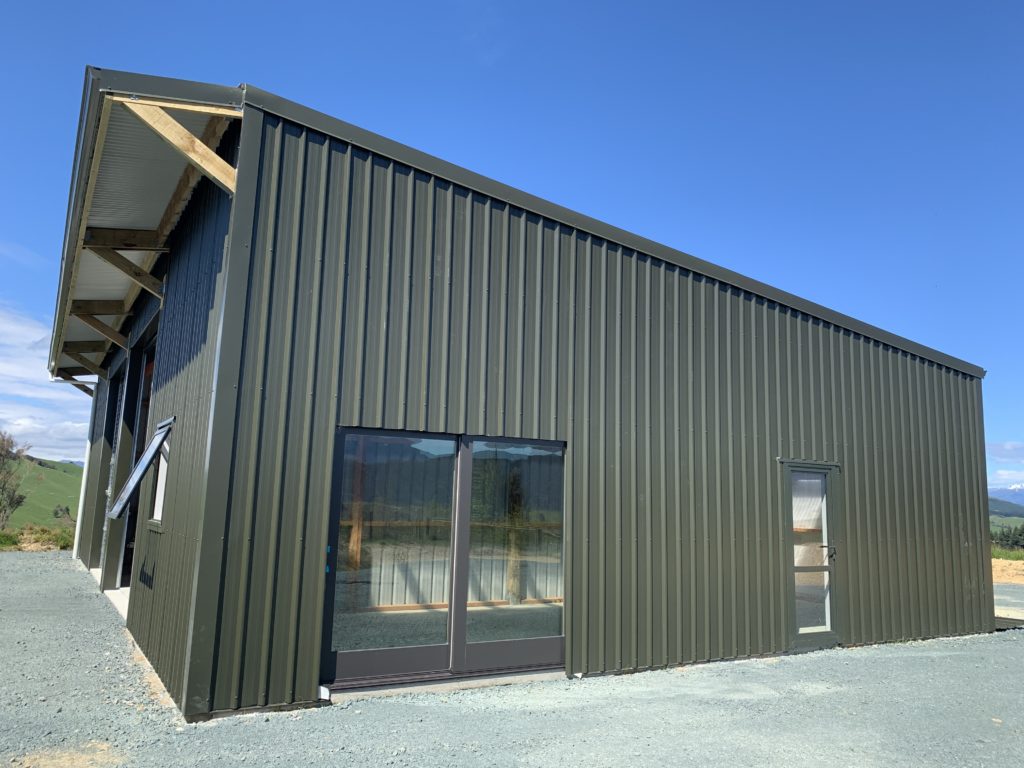 Double glazed windows or ranch sliders available in variable sizes.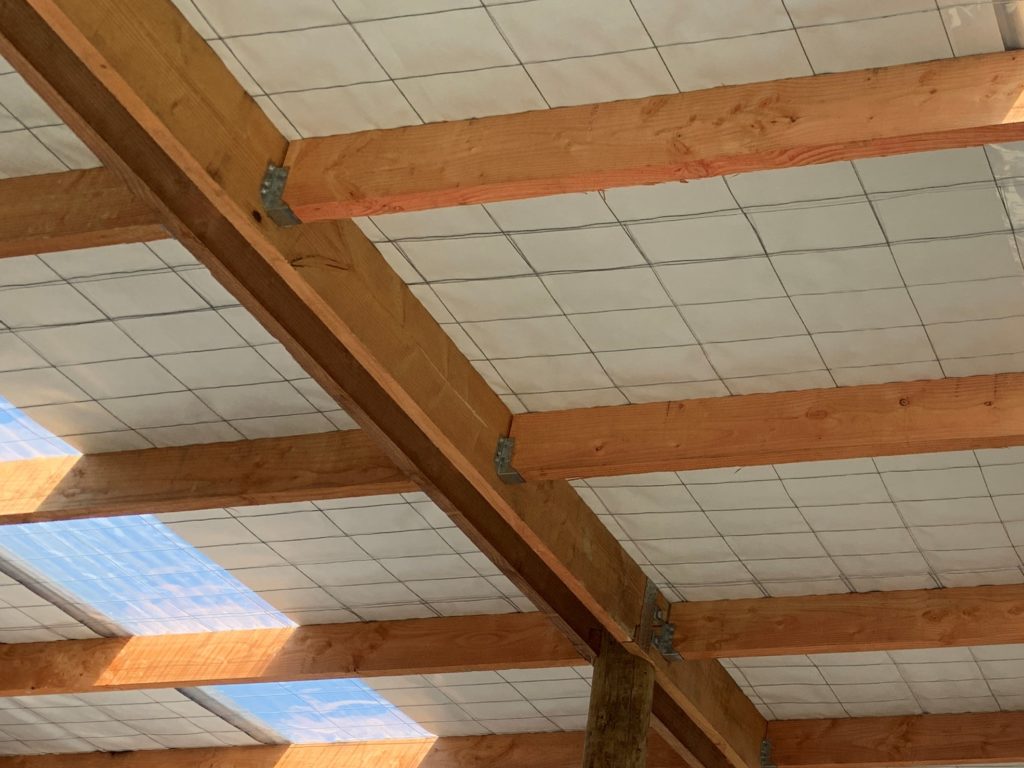 Roofing underlay & netting
For added protection against moisture ingress or condensation.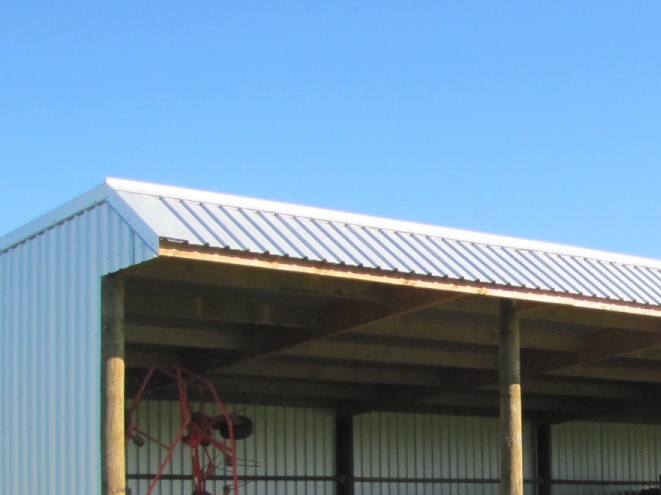 Covered entrance to protect against the rain and sun.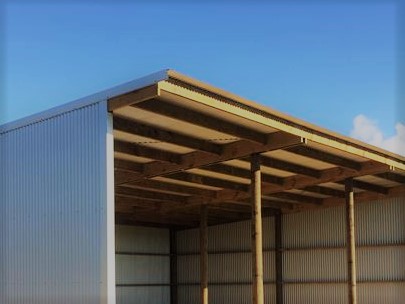 Covered entry to protect against the rain and sun.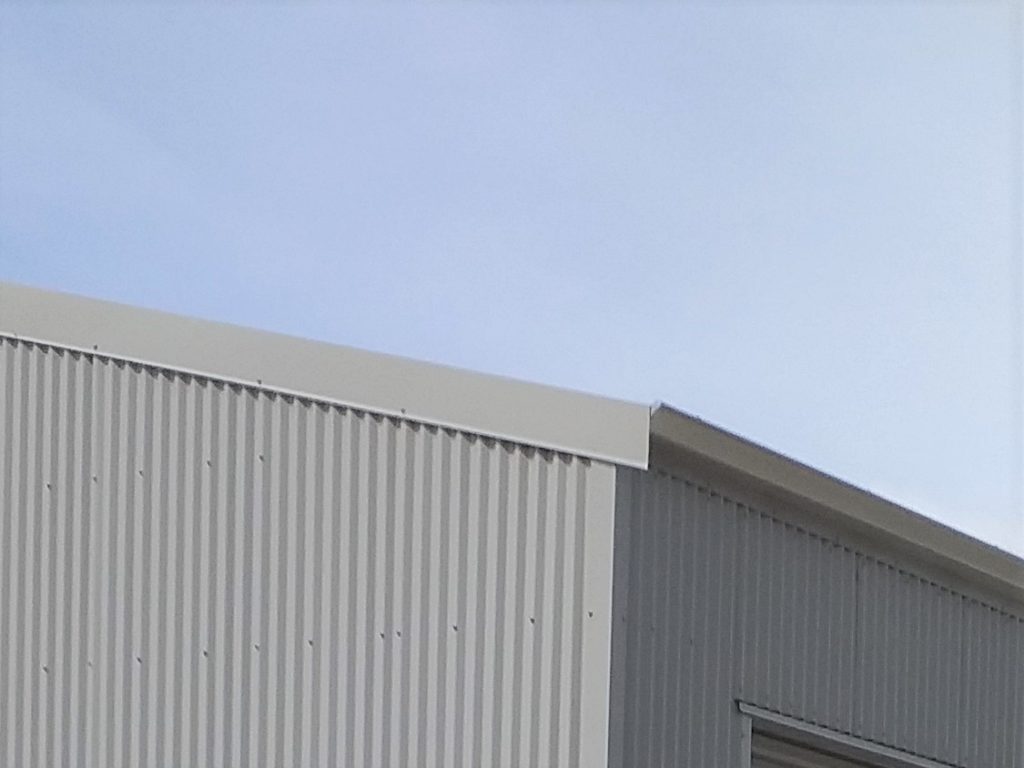 Flashings (Barge, corners & openings)
Flashings help to maintain a watertight building and provide a cleaner finish to the cladding.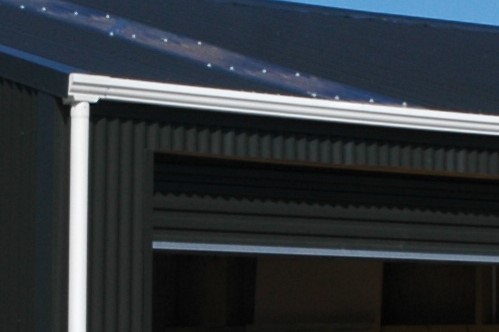 These help channel water away from the roof and building into stormwater drains, soak pits or water tanks.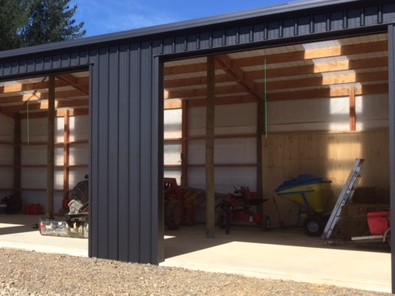 Add a concrete floor to the whole floor or selected bays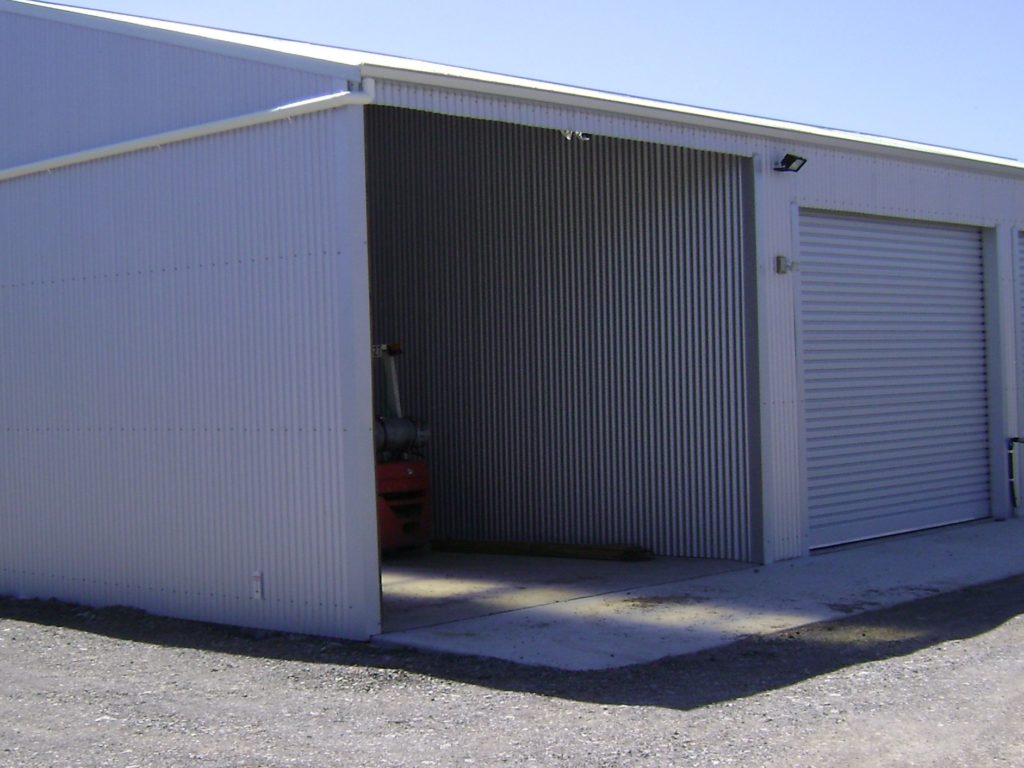 Separate spaces or bays with internal walls.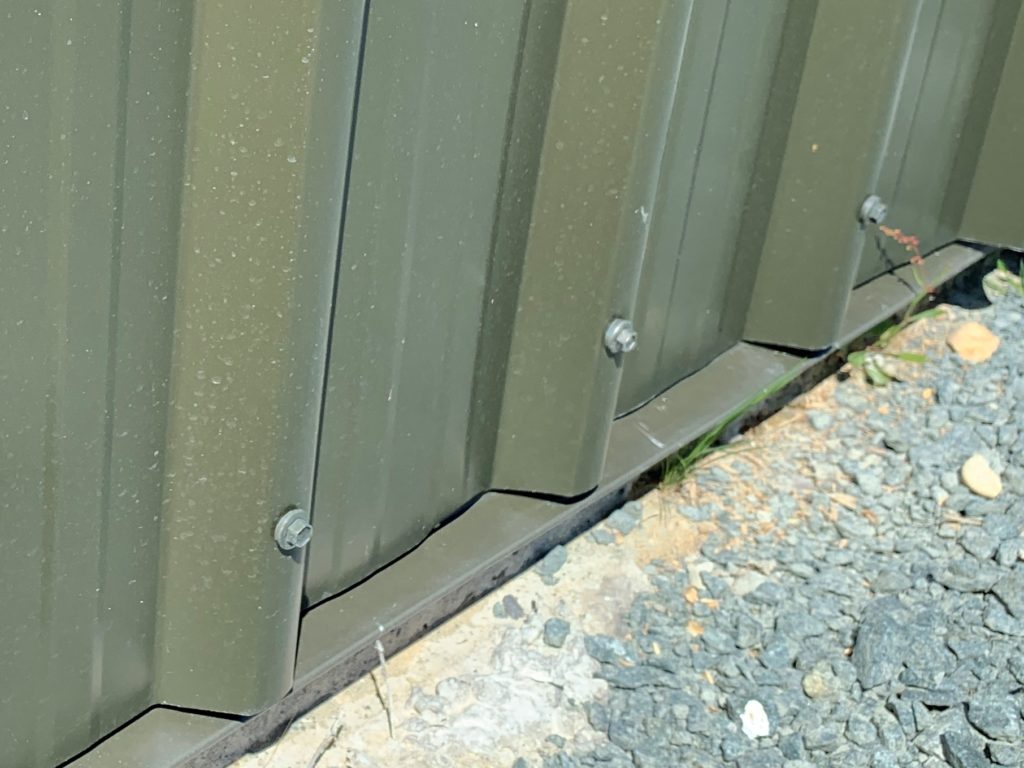 Keep unwanted pests out with rodent flashing.
Why use the Harrier quoting software?

Harrier is ideally suited to timber merchants and builders looking to grow their sales and profit in the fast growing $4bn shed market. Harrier is the leading software for quoting timber pole sheds. Timber poles and framing are very quick and easy to construct, very price competitive against other sheds and offer good margins for users.

Can I design a shed to my clients requirements?

Yes, all sheds are custom designed to the customers' site location and requirements.

What roofing and cladding options are available?

Most sheds are clad in profiled steel roofing and wall cladding as it is fast to install, reliable and economical. However, you can price other cladding options if requested.

Do I need any special knowledge or training?

Harrier is extremely easy to use and no specialist knowledge is required. New users are often quoting in less than 30 minutes.

How do I get started?

Simply register for one of the selected pricing plans and we will get you set up and underway.

Do I need any special devices or technical knowledge?

No, Harrier is web-based and can be accessed from any internet enabled device.

What is included in the quote?

The quote will usually include the drawings, poles, timber, roofing and cladding, hardware, doors and windows. Items such as flashings, concrete and related components will not be included unless specifically requested and included in the quote.

Can you also provide the engineered drawings?

Once the quote is accepted, we can also provide the working drawings and a producer statement (PS1). Allow 10-15 working days for standard designs. An additional fee applies for this service which is costed into quotes.

Can I include a concrete floor?

Yes, timber sheds don't require a concrete floor; but you can include a concrete floor if requested. To all or selected bays only.

Do I need a building consent?

Farm buildings will usually require a building consent. In some cases, non-habitable farm sheds in rural locations maybe exempt from needing a building consent. Contact your local council for confirmation.

Can I design a habitable shed?

Contact Harrier for information. While Harrier specialises in non-habitable sheds we can assist with habitable sheds.

What areas can Harrier service?

Harrier software can service nationwide.
The apex is the highest point of the roof, where the rafters join.
A bay is the space between the main vertical poles in a building. See the following examples:

A roof overhang which provides additional shelter over the entrance or opening to a shed.
Cladding is the material that covers your external walls and roof. Pole sheds are generally clad in profiled steel, but can incorporate ply, weatherboard, or basically any cladding material.
A flashing is typically a folded steel component that drains or deflects water back outside the cladding system.
The length multiplied by the width of your building. This can also include extra floor area if your building has a mezzanine floor.
A gable roof features two roof sections which come together to form a triangle.
A timber section fixed horizontally to the vertical poles/posts to provide horizontal support.
The importance level rating is determined by the intended use of your building, its location and the risk it poses to human life and other structures around it. IL1 is used for non-habitable buildings.
A timber support strut between the wall and the roof (or canopy).
The distance between the ground and the top of the wall.
A roof which slopes in a single direction. Also known as a monopitch or skillion roof.
Mullions are timber sections that roller doors are fixed to.
PA door stands for a Personnel Access door. A PA door is a standard door, similar to the front door of a house. The door can be in steel or aluminium joinery.
Timber that spans from rafter to rafter. Spacings are defined by the roofing material.
The main timber sections that span between the poles.
The slope or angle of your roof.
The distance between the two sides of a building.
Some common pole shed terms: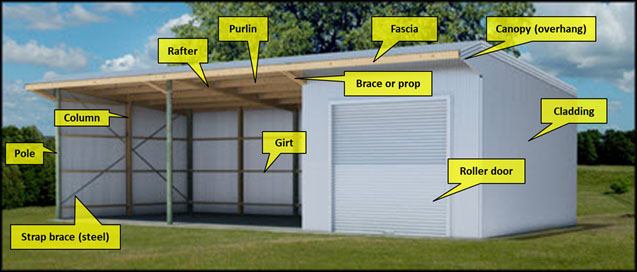 The image below shows how to measure your shed dimensions. For a gable shed the bay height high is the highest apex where the two roofs intersect.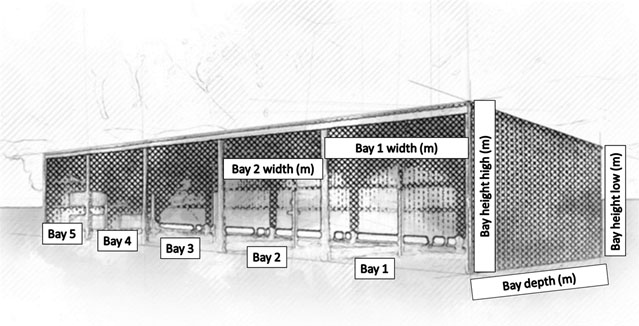 Why build a timber pole shed?
Very cost effective compared to other sheds

Less site preparation and shorter building time

Simple to construct

No need for a concrete slab

Timber is a renewable resource

Timber has good flex so allows movement to hold structure

Easy and safe to pre-wire through timber framing

Very durable with the ability to withstand adverse weather conditions

Long history of reliable performance